Iron Elite Sports Performance
In Gilbert, Arizona
Iron Elite Sports Performance was created to encourage and develop athletes to compete at the highest level of their sport by providing first-class training, the latest in sports medicine, and high-class facilities at which to Train, Recover, and Perform. Visit Iron Courts to find out more about our Athletic Performance Testing, as well as our full range of services.
Iron Elite Sports Performance Program Focuses on the
Five Pillars of Athletic Training
Core / Foundation
Balance, Gait, and Posture are foundational components of a strong and well developed athlete. Our training focuses on these areas to make sure there are no deficits and no areas that are more prone to injury.
Plyometric / Vertical
We increase reactive and elastic strength by performing "fast" and "slow" plyometric activities. This can help lead to improvements in vertical jumping and speed.
Strength / Power
Iron Elite Sports Performance uses exercises to increase an athlete's explosiveness and their maximal force producing capabilities.
Speed and Agility
We utilize multiple techniques to increase top spring speed and velocity along with their ability to move and change direction.
Endurance
Athletes that train under Iron Elite Sports Performance improve in their aerobic fitness through fun endurance-based workouts.
Iron Elite Sports Performance allows athletes to perform better on game day. The more you train and the better you get at the Five Pillars, the more improvement you will see in your specific sport.
Iron Elete Sports Performance Training in Gilbert, Arizona
The First Principle of Iron Elite Sports Performance is effective Training. Iron Courts has developed a comprehensive sports performance training program that includes training sessions and testing for athletes of all ages. This program enhances performance, builds confidence, and improves self-esteem in boys and girls ages 7 and older. And as Iron Sharpens Iron, our trainers help athletes build strength, increase speed, improve performance, and build character. Our instructors lead group classes in Performance, Speed & Agility, and Vertical Jump / Plyometrics. Check out our full menu of training options to learn more about how we strengthen athletes.
Athletic Performance Testing
Iron Courts has developed a comprehensive performance testing program for athletes of all ages. We bring professional testing to the amateur athlete.
Performance Training
Our Sports Performance Training Program utilizes the Five Pillars of Athletic Training. We focus on building dynamic stability and a strong core to improve overall power and strength.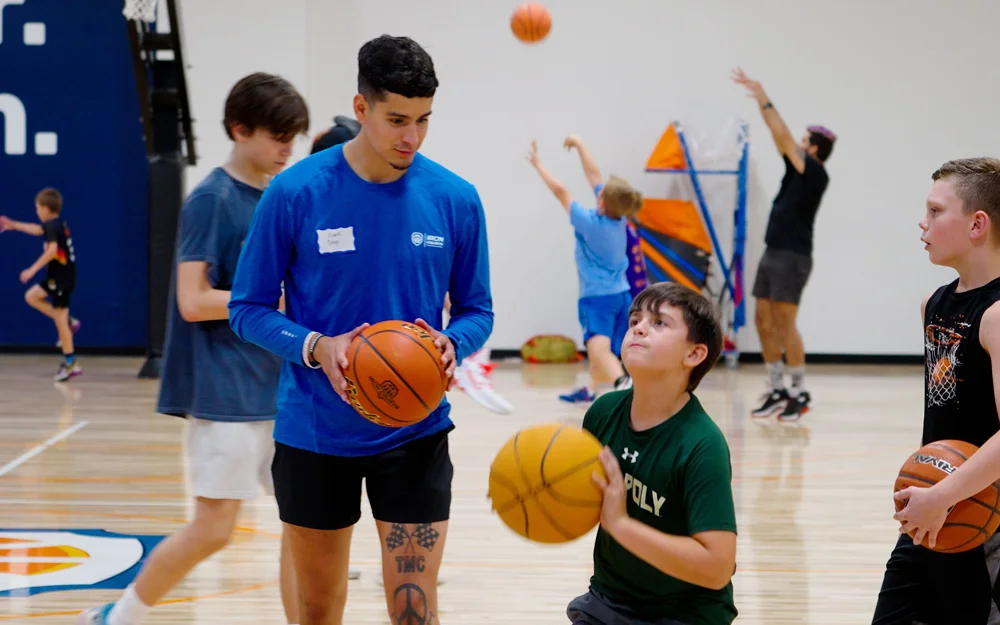 Basketball Skills Training
Iron Courts Basketball Skills Training provides the best in basketball skill development and character education for athletes.
Basketball Clinics
Our Basketball clinics provide smaller group, instructor-led sessions with up to 10 athletes max. These are meant to supplement the Basketball Skills classes.
Individual Shooting Session
(WITH SHOOT-A-WAY'S THE GUN 12K)
Maximize your training time with The Gun 12K by Shoot-A-Way. With over 200 programmable locations, you can touch ANY spot on the floor to shoot from.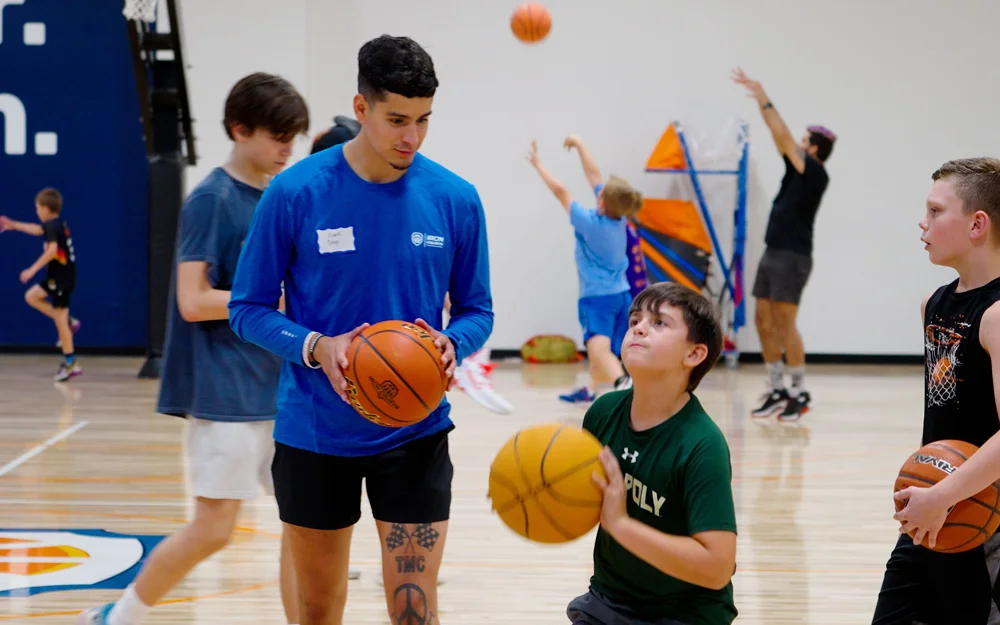 Custom Training
Want a more personal and focused level of training? Work directly with an Iron Courts trainer to maximize your time in the gym. Our Iron Courts trainers will evaluate a player's ability and provide a series of workouts tailored to the skillset and areas of recommended growth for the athlete.
Iron Courts Athlete Skill Levels:
Rookie: Builds Foundation for Coordination and Athleticism.
Junior: Emphasize Power, Vertical Jump, and Speed.
Elite: Develop Power, Strength, Speed, and Endurance to prepare for College Athletics.
Adult: 18+ Only. Fitness Training focused on overall health, endurance, and personalized goals.module Advanced settings.
For a limited time, purchase a Performance Training Membership for $79/month. This includes eight (8) performance classes every month. It does not include our general membership or open gym. Get any eight (8) performance training classes per month to get you feeling better, healthier, stronger, and faster than ever before. Great for Adults and our Adult Performance Training Classes too!
Register before the Performance Training Membership sells out!
Use Your ESA Funds Here
Iron Courts is an approved vendor for the Empowerment Scholarship Account (ESA) and is on Class Wallet.
Please fill out the form below and we'll get back to you right away!
What our members say
Reviews
Address
4874 S Val Vista Dr, Suite #100, Gilbert, AZ 85298
Hours of Operation
Iron Courts
Monday – Saturday
6am to 10pm
Sunday
8am to 8pm
Iron Courts Recovery
Monday – Friday
10am to 6pm