The Iron Courts basketball facility in Gilbert is over 25,000 square feet of Sports Medicine and Recovery, Performance Training, and Basketball/Pickleball court space for current and future athletes to Train, Recover, and Perform. We have three basketball courts, seven pickleball courts, a comprehensive sports medicine practice for medical therapy and recovery, a world class training area, and a hydration area. 
Basketball Facility in Gilbert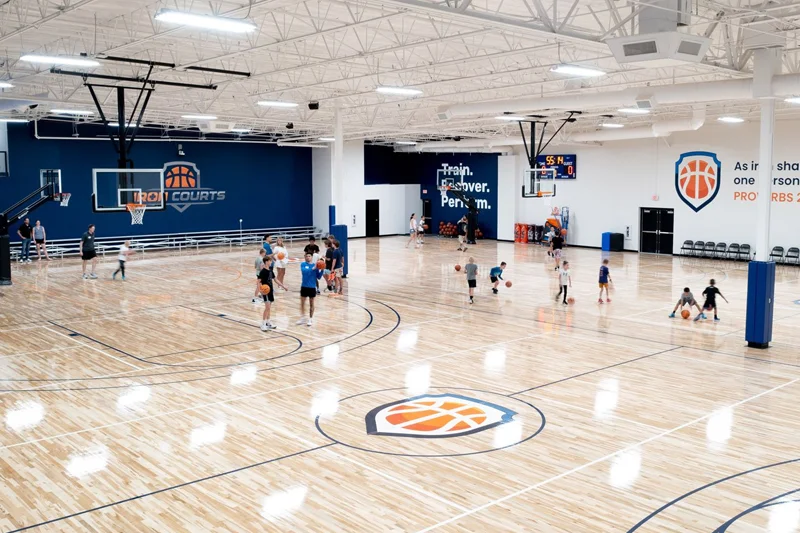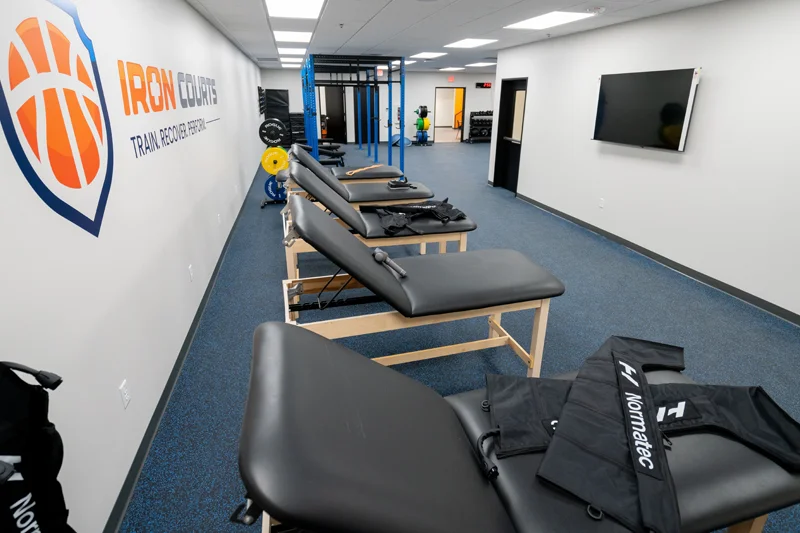 Come train, practice, and compete in our state of the art hardwood facility. With 15k+ square feet of court space, the Iron Courts basketball facility in Gilbert is ready to help you take your game to the next level.
2 Full Size Basketball Courts
1 Youth Size Basketball Court
Sports Medicine
With state of the art medical and personal training equipment and years of sports medicine experience, the Iron Courts sports medicine staff understands the athlete's healing and recovery process and what it takes to get your body operating at peak health. Our Sports Medicine area includes a rest and recovery area for IV hydration and cryotherapy and treatment beds for compression, percussion, stretching, taping, and electrical stimulation. In addition, we offer sports medicine evaluations, school physicals, and nutrition consults. 
Performance Training
Our 1,500 Sq Ft Performance Training area provides state-of-the-art equipment for athletic training and testing. We have an Elite Performance training class that will focus on core strength and improving overall performance. We have a Speed and Agility class that will train your fast muscles to move quicker and react faster. Last, we have an Explosive Power / Plyometrics class that will dramatically improve your vertical jump and help you reach higher than ever before. We also perform athletic testing that will allow us to track your strength and power on a regular basis.
Snack Shack
Need a quick refreshment or snack to get you back in the game? We have a large selection of recovery drinks and snacks to help you recover from the most strenuous training sessions. Choose from the many healthy drink and snack options at the Iron Courts Snack Shack area before training and competition to give you the strength and energy you need to make it through your workout or game.
Live Streaming
We have state of the art cameras to stream each court. See every practice, training, or game at Iron Courts with Live Barn!
Use Promo Code icaz-trp1 for 10% off your monthly subscription.
· On-Demand feature allows you to watch and re-watch for 30 days
· Our new feature allows 30-second highlight clips to be downloaded
Locker Rooms
Men's and women's locker rooms are available for Iron Courts members to change and prepare for their training activities. Individual lockers are available for rent. $10/month. To reserve, see front desk staff for more information.
Train, Recover & Perform at our State-of-the-Art Basketball Facility in Gilbert