IV Hydration Therapy in Gilbert
At Iron Courts, we think cutting-edge recovery treatments should be affordable. Our IV hydration therapy, available for both athletes and non-athletes alike, speeds athletic recovery and overall well-being.
Physicians and pharmacists at Iron Courts have designed the optimal vitamin, mineral, and protein combinations to provide personalized IV hydration therapy to our clients. Our specially designed formulas improve strength, immunity, and energy.
These treatments are not only beneficial to athletes but also for anyone wanting to improve health and energy levels.
Whether you're a busy professional seeking an energy boost, a parent striving for a healthier lifestyle, or simply an individual looking to optimize your well-being, we offer therapy tailored to meet your unique needs.
Visit Iron Courts for IV Hydration Therapy in Gilbert
Our IV hydration therapy sessions are carefully crafted by a team of experts, combining the latest scientific research with state-of-the-art technology. IV hydration therapy is safe and effective, frequently used by people of all ages who are sick, injured, or recovering from exercise or heat exhaustion.
If you are looking for IV hydration therapy in Gilbert, visit our new facility to learn more.
What is IV Hydration?
IV hydration therapy is a medical treatment that involves the intravenous administration of fluids, vitamins, minerals, and other nutrients directly into the bloodstream.
By bypassing the digestive system, it promotes the rapid absorption and replenishment of essential substances. It hydrates, enhances nutrient absorption, and promotes overall wellness and vitality.
Benefits of IV Hydration Therapy
Supports metabolism
Boosts and maintains energy levels
Keeps joints lubricated
Optimizes organ function
Delivers nutrients for optimal health
Removes byproducts of exercise
Get In Touch
Book a Session
Your actual appointment time will be confirmed by our staff when they call you to finalize the appointment.
IV Hydration Therapy in Gilbert, Arizona
SW Corner of Val Vista and Queen Creek
4874 S Val Vista Dr Suite 100, Gilbert, AZ 85298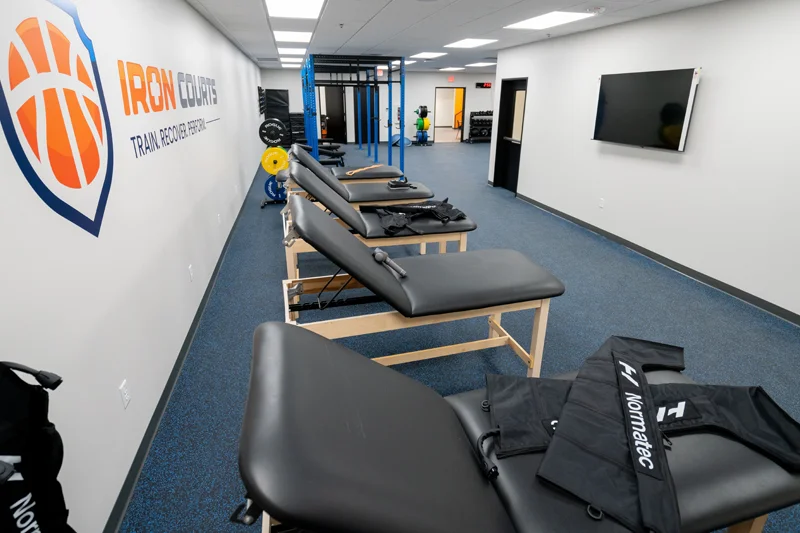 At Iron Courts, we've built a one-of-a-kind epicenter for all things sports. Firstly, our sports medicine staff boasts top-of-the-line medical and physical therapy equipment, coupled with years of experience in sports medicine. We understand the ins and outs of the body's healing and recovery process, and are dedicated to helping you achieve your peak physical health.
Secondly, our facility offers a range of amenities designed to optimize your recovery, including a treatment room equipped with compression, percussion, and electrical stimulation tools, an evaluation room for sports medicine and nutritional assessments, and a private suite for personalized one-on-one sessions as well as a dedicated area for IV hydration and cryotherapy in Gilbert
Thirdly, if you're looking to take your training, practice, and performance to the next level, look no further than our cutting-edge hardwood basketball courts. Unlike any other facility in Arizona, our indoor facility boasts 15,000 square feet of court space. Basically, Iron Courts is the perfect destination for your kids to hone their skills and elevate their game.
Fourthly, our 1,500 square foot training center is fully equipped with the latest state-of-the-art athletic training and testing equipment, so your athletes can push themselves to new heights and achieve their goals.