Iron Courts offers cryotherapy in Gilbert at our new state-of-the-art sports medicine facility. Cryotherapy is the science of exposing parts of the body to sub-zero temperatures to stimulate physical health benefits.
At Iron Courts, we make use of advanced technology known as the Cryo-Penguin to administer precise and targeted sub-zero temperature therapy. Laser guidance ensures accuracy and enhances the effectiveness of this specialized treatment, referred to as Point Cryotherapy.
Visit Iron Courts for Point Cryotherapy in Gilbert
The Iron Courts sports medicine center helps athletes optimize their performance and recovery options in Gilbert. Our cutting-edge cryotherapy treatments help athletes heal faster, improving performance.
If you are looking for cryotherapy in Gilbert, visit our new facility to learn more about cryotherapy and other treatment options.
Why Cryotherapy?
Cryotherapy enhances blood circulation, leading to an elevated metabolic rate and increased caloric burn in the treated area. This treatment also raises endorphin levels, promoting a positive mood and reducing stress.
Additionally, cryotherapy stimulates collagen production, resulting in firmer and tighter skin for a rejuvenated and radiant appearance.
Cryotherapy / Penguin
Localized liquid nitrogen therapy (cryotherapy) reduces inflammation, relieves pain, and promotes skin health safely.
Buy 5-pack or 10-pack packages to save money.
Cryotherapy Treatment (1 Area)
Targeted cryotherapy reduces inflammation, pain, and tension. Targeted single-region therapy relieves soreness from workouts and minor injuries.
Pricing
$20
Member
$30
Non-Member
15 minute therapy
Cryotherapy Extended Treatment (Back or 2 Areas)
Targeted cryotherapy reduces inflammation, pain, and tension. Extended individual location or 2-region local therapy relieves soreness from workouts and minor injuries. Extended treatment time speeds recovery.
Pricing
$40
Member
$50
Non-Member
30 minute therapy
Cryotherapy Facials Age Defying (15 mins)
Cryo-facials are known to visibly reduce wrinkles and dark circles. These natural, non-surgical non-injection-based treatments can lead to long-lasting, firm, and youthful skin.
Pricing
$40
Member
$50
Non-Member
30 minute therapy
Get In Touch
Book a Session
Your actual appointment time will be confirmed by our staff when they call you to finalize the appointment.
Cryotherapy in Gilbert, Arizona
SW Corner of Val Vista and Queen Creek
4874 S Val Vista Dr Suite 100, Gilbert, AZ 85298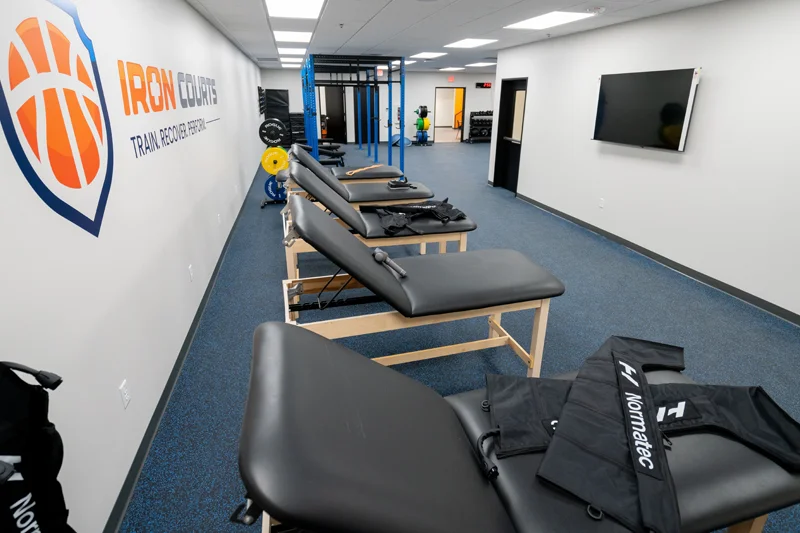 At Iron Courts, we've built a one-of-a-kind epicenter for all things sports. Firstly, our sports medicine staff boasts top-of-the-line medical and physical therapy equipment, coupled with years of experience in sports medicine. We understand the ins and outs of the body's healing and recovery process, and are dedicated to helping you achieve your peak physical health.
Secondly, our facility offers a range of amenities designed to optimize your recovery, including a treatment room equipped with compression, percussion, and electrical stimulation tools, an evaluation room for sports medicine and nutritional assessments, and a private suite for personalized one-on-one sessions as well as a dedicated area for IV hydration and cryotherapy in Gilbert
Thirdly, if you're looking to take your training, practice, and performance to the next level, look no further than our cutting-edge hardwood basketball courts. Unlike any other facility in Arizona, our indoor facility boasts 15,000 square feet of court space. Basically, Iron Courts is the perfect destination for your kids to hone their skills and elevate their game.
Fourthly, our 1,500 square foot training center is fully equipped with the latest state-of-the-art athletic training and testing equipment, so your athletes can push themselves to new heights and achieve their goals.